Search Tyres by Vehicle Registration
Are you looking for Summer Tyre for your vehicle?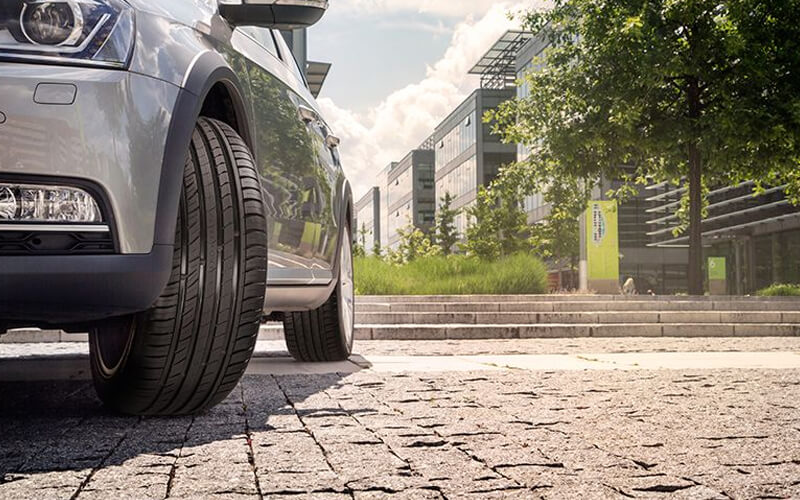 Summer tyres must be able to show good braking characteristic, especially, in wet and dry weather and are not suitable for driving at an outside temperature of less than +7 °C as well as snow and ice. If the temperature falls below 7 °C, the material of the summer tyres gradually begins to deteriorate.
The rubber mixture summer tyres are made of, contains less rubber than the mixture used for the production of winter tyres. Summer tyres often have to withstand very high temperatures and the material must not be softened by the warming, and for this reason, the material is deliberately made harder compared to the material of a winter tyre.
summer_tyres
Structurally the tread of Summer tyres also differs from that of Winter tyres. The tread of a Summer tyre ensures that even a large quantity of rainwater is quickly pushed through the profile so the tyre still maintains a good road grip to avoid life threatening aquaplaning.
To ensure that your car, SUV or SUV/4x4 is in top shape even in bright sunshine and on hot asphalt, your vehicle must be equipped with the appropriate Summer tyres. This is the best way to "show off" in good weather.
Together with us, you can get your vehicle ready for the warm season!At our Mill Tyres Ltd Online Shop, we offer a wide range of Summer tyres from cheap quality tyres, mid-range tyres up to a top of the range tyre brand manufacturers, such as Pirelli, Bridgestone, Continental or Dunlop – simply by selecting them on our clever search mask. Type in your tyre size or vehicle reg. number and you will find the matching Summer tyres in no time.
With just a few clicks you can order quickly and conveniently online and we will take care of the delivery of your new Summer tyres either to our fully equipped, modern workshop, in which our staff are happy to professionally mount your new tyres or alternatively, the tyres will be delivered to your home.