Are you looking for Air Conditioning for your vehicle?
Most modern cars now come with an air conditioner that helps the motorists stay cool in hot days and also allows windows to demist in the winter days. Like any other component, even your vehicle's AC system needs looking after. It gradually loses refrigerant gas over time and must be recharged and assessed for potential leakages every two years.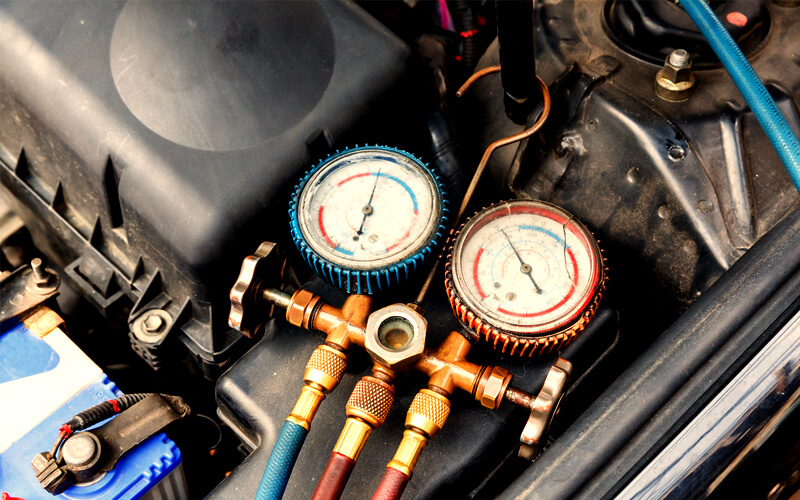 Dangers of not getting AC serviced
Fungi and bacteria which have formed on the evaporator are distributed in the vehicle.
The interior filter can no longer clean the air sufficiently from harmful dust, pollen and soot, which can lead to damage to the respiratory tract and asthma. The interior space cannot be sufficiently cooled, which can lead to tiredness and decreasing concentration.
Due to overheating, circulatory problems can occur. The compressor can run hot when the refrigerant loss occurs. The dryer, which is designed to filter the moisture from the refrigerant, wears when regular maintenance fails; The consequence: corrosion when refrigerant escapes, it has a significant environmental impact.
Mill Tyres AC Service overview
General functional test of the air conditioner
Testing of pressure and tightness
Disinfection (removes fungi and bacteria)
A visual inspection
Replacement of the interior filter (cleaning the air of dust, pollen, soot etc. (filter is not included in the price).
Replenishing compressor oil
Replacement of the refrigerant
If necessary: Repair of air conditioning. Additional costs for material and working hours may be incurred.
Advantages of regular maintenance
They are liberated from unpleasant odours, pollen and bacteria that escape from the air conditioning system
You always have the desired indoor temperature at the push of a button clear view through the panes
We offer air con service at our garage and ensure that your vehicle's air conditioning system functions as effectively as possible. We have got our hands on the most excellent equipment that will help us take our air conditioning service to the next level.
Your vehicle's air conditioning system is in good hands with KOOLKARE DUAL GAS EEAC124C at Mill Tyres Garage.
KOOLKARE DUAL GAS EEAC124C station is a dual-gas air conditioning service equipment used to recover, recycle, and recharge R134A and HFO1234yf refrigerants. It is an automatic unit capable of handling both the refrigerants on separate lines. It can efficiently deal with the most complex AC and climate control systems present in cars today. Here are few of its features as mentioned below:
The expansive vehicle database enables us to provide ac service to a broad range of vehicles driven in and around Boston.
It has a diagnostic mode that helps us detect and fix the potential fault in the ac system.
It meets global standards for refrigerant management process guaranteeing safe and quality service.
The refillable sealed dye and oil bottles negate any chances of contamination and moisture ingress.
If you own a hybrid vehicle, fret not, as this modern equipment can also be used to service HD11 oils present in hybrid cars.
The two 12L refrigerant cylinders allow us to service many vehicles that come through our garage in Boston.
If you have not gotten your car air conditioner checked for nearly two years, then perhaps it is due a service now. Bring your vehicle to the Mill Tyres garage to experience the finest air conditioning service Boston vehicles need.
If you have any concerns regarding your vehicle's air conditioning system, then reach out to our customer support team. Drop us a line on 01205 355 849; we will be happy to answer all your questions. Alternatively, you may also choose to send us a message, along with your contact information, from the Contact Us page.
Happy motoring Boston residents!