Are you looking for Exhaust Repair for your vehicle?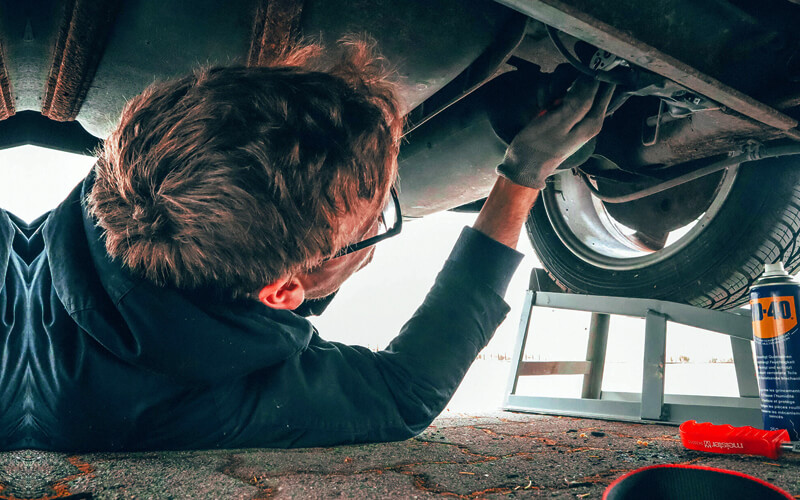 No more rust and loose parts!
The exhaust of your car reduces noise and environmental pollution and protects you from toxic exhaust fumes. A defective system, however, endangers you and others. So please, get your vehicle's exhaust checked from time to time - or if you already think there might be something wrong, come to us as soon as possible. Our highly experienced technicians can check your car's exhaust system and repair it for you if necessary.
Info:
Components of an exhaust system:
An exhaust system consists of several parts.
The exhaust manifold - it is connected to the cylinder head and consists of stainless steel or grey cast iron.
The trot pipe - follows the exhaust manifold and is rigidly screwed to it. It is usually two-lined, and the entrances and - like a trouser - into an exit.
The catalyst - one of the most important parts of the exhaust system. This filter together with the lambda probe filters the exhaust gases and ensures that the environment is not getting too polluted.
The soot filter - is installed in front of the exhaust system. Most diesel engines now use a particulate filter.
The front and middle silencers - the sound is absorbed and reduced using insulation material. The vehicle is quieter and therefore more comfortable.
The rear muffler - ensures that the exhaust gases split into partial flows and a further high damping of the engine noise is produced. The outer shape of the rear muffler can vary depending on the vehicle type.
The tailpipe - provides the visual effect on the vehicle and is the part of the exhaust that is more or less visible when you look at the vehicle from behind.
What is included in the exhaust service?
The visible pipe at the rear of your car is only the last part of the exhaust system. In fact, an exhaust consists of many different components: the exhaust manifold, the so-called trot pipe, the catalytic converter and up to three mufflers.
During each drive, they are subjected to extreme thermal stress. Strong temperature fluctuations due to hot exhaust gases and outside temperatures, as well as streaks and dampness, have a strong impact on the exhaust system more. So it is no wonder that relatively quickly holes form, parts get loose or even rust.
The last muffler - called the rear muffler - is the most frequently broken part of the exhaust
At Mill Tyres Ltd Boston, an exhaust repair includes the following:
Visual inspection of exhaust system
Removal of the worn parts, for example, the muffler professional installation of spare parts in original equipment quality (silencers and accessories, such as suspension mounts, clamps, exhaust sockets, etc.)Safety test for tightness and correct bit environmentally friendly disposal of the old exhaust parts
If you have any queries or need some advice about the exhaust system of your car, please contact us.
Our friendly experts will always take the time to talk to you.