Search Tyres by Vehicle Registration
Are you looking for All Season Tyres for your vehicle?
Discover our All Season Tyres and order online.
Have you had enough of the constant seasonal tyre change?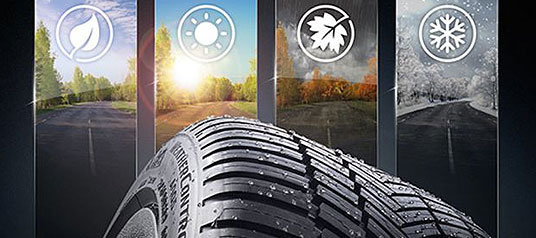 Do you drive little or mainly in the city?
Then the use of all-weather tyres might be a practical alternative to Summer- and Winter tyres!
At your Mill Tyres Ltd online shop, you will find numerous All-season tyres from well-known tyre manufacturers such as Goodyear, Pirelli or Dunlop etc.Find the right tyres for your car with the help of our easy to use the search engine. It is fast and convenient to find the right tyres and order from home. Just type in the tyre size and/or vehicle registration number and within seconds you will see the All- season tyres available.
We deliver your all-season tyres to your doorstep or you can book a fitting appointment at our workshop with your order. Our team of experts will be happy to fit the tyres for you.
Tyre Info
The idea of the all-season tyre sounds seductive. Only use one tyre for the whole year. Skip the annoying tyre changes and the costs.Before making the decision to buy All-season tyres, you should consider a few things though...
In winter, All-season tyres are subject to the capabilities of winter tyres in terms of traction and grip - In summer, All-season tyres are usually not as good as pure summer tyres, especially at higher temperatures.
The rubber mixture used for All-season tyres is a kind of compromise related to temperature fluctuations and this is the main reason why these tyres are not suitable for all drivers.Also, the wear of these tyres is higher.
When is it worth to change to All -season tyres?
Under certain conditions, however, these tyres can nevertheless be a more sensible and more beneficial alternative.
You only have to pay attention to a few points:
Vehicles with a low annual mileage of less than about 6000 miles should be equipped with All- Season tyres.
In these cases, the higher wear is irrelevant since the tyre changes would probably more expensive than just buying new All- season tyres. Also if you live in areas where it hardly ever comes to winter conditions or basically in warmer areas
In principle, All season tyres are also recommended if the vehicle has no strong motorization. Only with performances over 100 bhp, one should basically change to Summer- and Winter tyres, as All- season tyres cannot transfer the performance to the road as well as the other two tyre types.
A final conclusion is hard to hit. For certain vehicles and person groups, All season tyres are certainly a good alternative if you do not want to change the tyres twice a year.